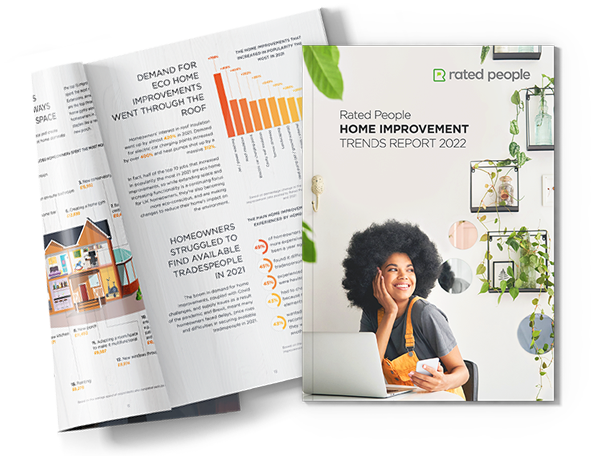 For insights on the biggest trends in renovation and home improvement, take a look at the Rated People Home Improvement Trends Report 2022
So many of us have wanted to redesign, adapt and remodel our homes over the past two years to cater for new ways of living – so what are the biggest home improvement trends of 2022?
We analysed more than 800,000 jobs on our site posted by UK homeowners to create the 2022 Rated People Home Improvement Trends Report and spoke to thousands of homeowners across the UK to find out this year's biggest trends.
 
Key trends
The pandemic is still influencing how we want to redesign and renovate our homes – but interestingly, that doesn't just mean creating lovely home offices. This year is the year of more space, better functionality, and home bars!
However you'd like to improve your home this year – you can find all the local tradespeople you need right here on Rated People – from bathroom fitters, plasterers, and painters and decorators, to carpenters and joiners, and kitchen specialists.
Top home improvement trends for 2022
If we look at how homeowners want to spend their home improvement budget this year, four of the top five adaptations are around space optimisation. Extensions take the top spot, with an average planned spend of just under £19,000.
Fifth on the priority list is dividing up open plan designs – homeowners want to create multiple usable spaces within the home, and building walls to break up open plan zones is one of 2022's top five improvements that they want to spend the most money on.  
After the stress and challenges of the last two years, one in 13 homeowners (7%) will be building a home bar in 2022, setting aside around £14,000 to do so. This is more money than homeowners are willing to spend on creating home gyms, a new kitchen, or a new porch.
The top 15 home improvements that homeowners want to spend the most money on in 2022:
Building an extension – £18,580 (average planned spend for this job)
Building an annex – £16,731
Adding an en-suite bathroom – £15,885
New conservatory/orangery – £15,564
Building a wall to create separate rooms – £13,977
Creating a home bar – £13,939
Creating a home gym – £13,574
New kitchen – £12,057
New porch – £11,252
Adapting a room to make it multifunctional – £10,772
Adding an outdoor entertaining area – £10,483
New windows throughout – £9,547
Tiling – £7,728
Garden landscaping – £6,622
Painting – £4,743
Most popular home improvement jobs for 2022
When it comes to the jobs we most want to do this year, more than one in three (38%) homeowners want to revitalise their homes with a lick of paint.
In the top 15 jobs that homeowners want to do the most in 2022, there's staples like new kitchens and new bathrooms, but pandemic-influenced improvements like creating multifunctional space, home bars and outdoor entertaining areas are also now more popular than ever.
The home improvement jobs UK homeowners want to do the most in 2022:
Painting – 38% (of UK homeowners want to do this this year)
New carpet – 21%
Garden landscaping – 19%
New bathroom – 14%
New wooden flooring – 12%
New kitchen – 11%
Tiling – 11%
New windows – 11%
Creating multifunctional spaces – 11%
Building an outdoor entertaining area – 9%
New roof – 8%
Creating a home bar – 7%
Adding an extension – 7%
Loft conversion – 7%
Adding a garden room – 7%
To see the full research, visit the 2022 Home Improvement Trends Report.